F1 round 8 saw the field of drivers head to Austria the home of the Redbull A1 Ring. This was set to be a challenging event with fast straights and tight corners. Car setup was never more important. Practice got underway and everyone set about trying to get the setup right that would help them from pushing too wide in the corners and running off the demanding circuit.
Qually:
The race for pole position got underway in the favoured private session format. Duran was able to make the most of the session taking the number 1 spot on the starting grid.
Race:
The race got underway. Duran got off to a flying start and lead the field into turn 1. Shane got off the line well and beat Jaycie to turn 1. Jaycie wasn't impressed and put the hammer down and quickly got back past Shane. Jono ran hot into turn 1 and ran wide narrowly missing Jaycie and Shane. He was able to quickly recover and retained 4th place. Michael and Nick rounded out the field in 5th and 6th respectively.
Duran had a moment in the early laps which allowed Jaycie and Shane to slip through. Lap 6 saw some very close and clean racing between the two as they battled for the number one spot. Duran and Jono were only 1 second off the pace. Duran found his way past Shane and set his sights on Jaycie. The top 4 drivers were all within 4 seconds of each other.
Mechanical failures plagued the field with 4 drivers having to retire. The circuit showing just how demanding it really is.
Duran and Jaycie were battling hard around the middle of the race. Duran played a different tyre strategy to the rest of the field. A few little mistakes from Jaycie at the back end of the race handed Duran a comfortable win.
By Sam Owen
Championship Points: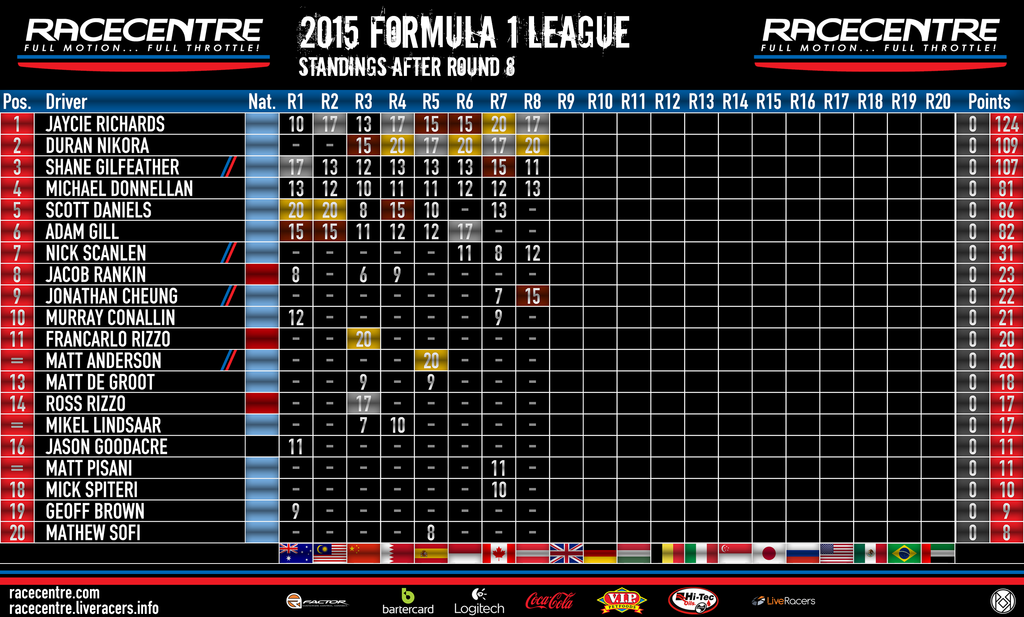 Table By Pat O'Reilly